In our first post, we covered the importance of "striking first" in order to win in an impossible market. That puts us in a position to succeed. But to win, you have to "strike hard" in order win the contract on that dream home…or the All Valley Karate Tournament for that matter.
CHANGING YOUR MINDSET
I LOVE bargains. I hate to pay full retail for anything. It goes against my nature. If you are like me, you have to seriously evolve your way of thinking in the current real estate market.
To give you an idea, in January of this year, inventory was down more than 50% from last year.  However, get this, home sales were up 20%!!  So, even in a market where there were HALF as many houses available, home sales still increased significantly.
Put it another way, in a moderately appreciating market, there are about SIX month's supply of homes (the amount of time it would take sell all of the inventory on the market at current sales rates).  Right now, we are hovering a little over ONE month's supply of homes.  This has lead to huge acceleration in home prices and to unprecedented competition for homes. Look at this three year chart for Wake County and select cities like Cary, Apex, and Raleigh. We already were churning through inventory at a higher than average rate and then the steep drop, surprisingly or because of(?), perfectly coincided with the COVID pandemic in 2020.  And it's gotten even worse in 2021.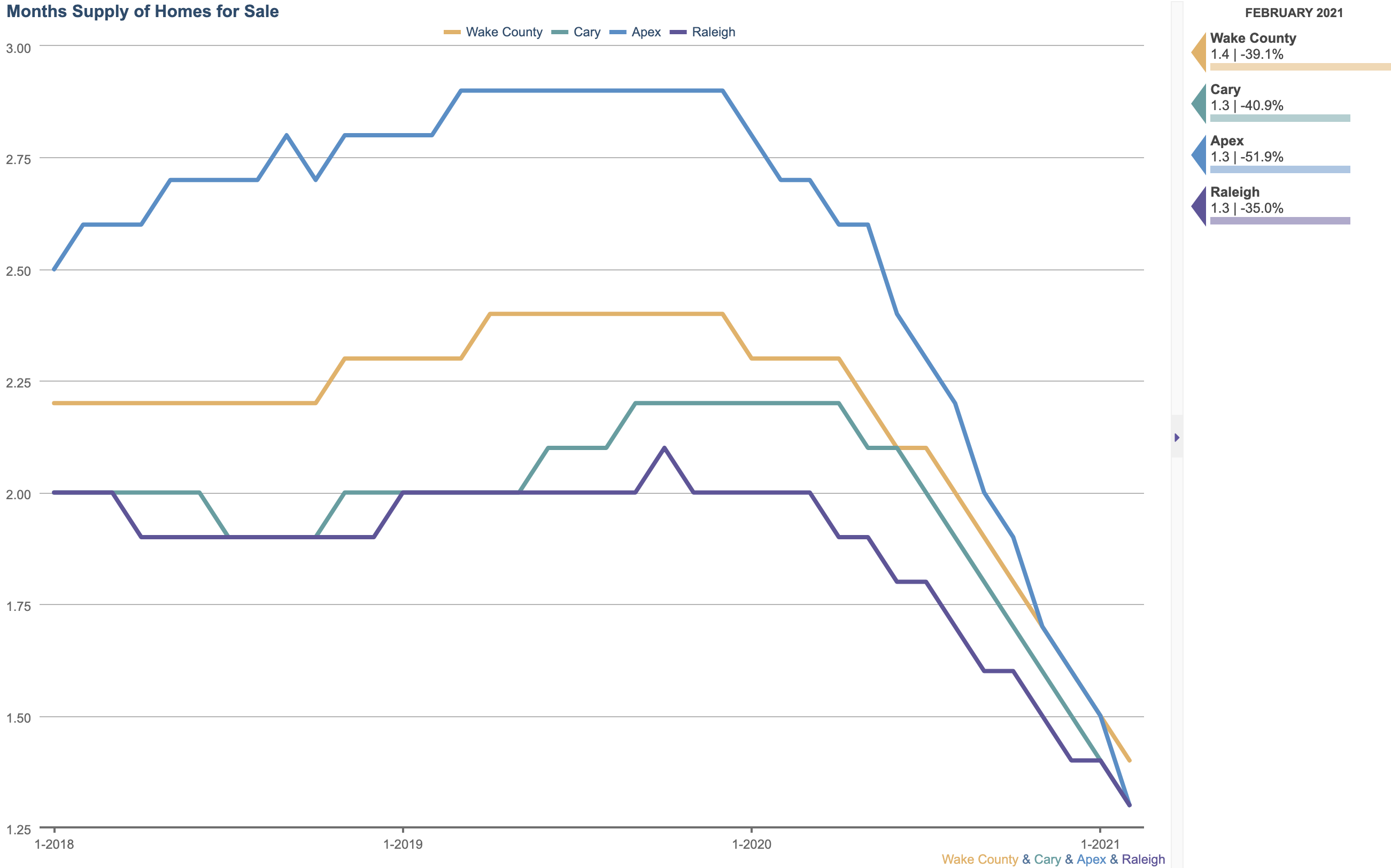 It PAINS me to say it. The bargains are gone. The market has spoken. Working within your budget means determining your max comfort level for buying a home AND then choosing homes to focus on, with the help of your realtor, that you feel your max offer will give you a chance at snagging a home.  
SIGHT UNSEEN – THE NEW NORMAL?
We discussed how to plan to find the home you want to focus on and also the importance of being first mover in my previous post.  Now in our "new normal", first mover means considering "sight unseen" offers either before showings start when a listing is in ACTIVE status, or when the listing is in COMING SOON status where showings are prohibited. I would never advise a client of mine to do that unless they weigh the potential worst case scenarios (major repairs/renovations needed, unknown issues with the land/yard, etc.). Sight unseen can be great if you are willing to take some risk. Risk will vary based on the home and consult with your realtor on the risks.
For some homes, buyers are willing to consider a worst case scenario and still offer on a home sight unseen. The more homes you tour, the better it seems you will be understanding which homes are "right" for you based on pictures and the due diligence your realtor does for you to find out as much as possible without physically stepping inside.  
If you are not able to purchase that way now, I totally understand. However, some buyers start out saying they'd never do it and now they are placing sight unseen offers like they are going out of style.
PRICE – STRIKE AS HARD AS YOU CAN
So if you are in the enviable position where sellers are still accepting offers and are ready to consider yours, this is NOT the time to put out a lowball offer to see where a seller is at.  This may have worked in the past but not now.  Basically, if the listing agent is anything like me, they are creating detailed spreadsheets to document all offers. If your offer first appears at the bottom, it's very unlikely the seller will entertain the offer, let alone continue the conversation with your agent.  First impressions are everything.
Your realtor can help you determine if it's time to go to your MAX.  And what I mean by MAX, I mean, the offer that you are willing to give where if you were asked to increase it by $1, you would rather lose the house. There are negotiating strategies I use where the MAX isn't necessary at first but, of course, I don't want to give away my trade secrets.  😉
Just be aware that your realtor is hugely important in helping give you options for your offers.
PRICE ISN'T THE ONLY IMPORTANT PART OF THE OFFER
So without a long tutorial about what goes into an offer, let me just say that, of course price is important for a seller.  It ultimately determines their net proceeds from a sale. However, a seller needs assurance that a sale will go through.  They need security from your offer. This is what they are looking for:
1. High DUE DILIGENCE deposit
Due diligence is the non-refundable deposit on a home that is paid directly to the seller. Once you get a contract on a home, the sellers are paid directly and that money is theirs (unless they breach – another topic for another time). High due diligence deposits provide security for sellers that if a buyer has to back out or terminate a contract, the seller is compensated for the time their home was off the market. Higher due diligence deposits mean a lower likelihood that a buyer will back out. Unfortunately for the buyer, it also MIGHT mean the seller will be less likely to agree to due diligence repairs or any other buyer requests. They have your due diligence regardless, if the buyer backs out, they pocket that and move on to the next buyer.
So how much is HIGH due diligence?  That will vary by the area, the house, the neighborhood.  At one time 1% was considered a decent due diligence.  Now, it's not unheard of for $10,000, $20,000, $30,000, etc. But for some areas (and houses), 1.5% or 2.0% may be fine.
2. Appraisal Shortfall Assurance
Since most homes are selling well above list price and well above sold comps, appraisals frequently come in low.  The lender will lend you money based on the "appraised" value of the home regardless of the contract price.  So if the appraisal comes in low, the buyer would need to make up the difference in their downpayment.  Usually, sellers and buyers would renegotiate to see if a price reduction can help mitigate the shortfall. Now sellers are reluctant to do that (although it still happens).  The reason for this is because shortfalls will be more drastic given the soaring prices, especially now.  
Keep in mind, appraisers go by closed comps. Even the most recent "closed" comp went under contract 1-2 months ago so those comps are always backward looking. Prices can change in 1-2 months drastically, just as we've seen in February and March of 2021. On top of that, there will be buyers much more willing to NOT renegotiate an appraisal shortfall (some have attorney drawn letters) and assure the sellers by showing a higher downpayment on their loan (or an all cash offer). Which leads me to…
3. Financing
This is one area where many first time home buyers and veterans are suffering.  What a shame. Government backed or guaranteed FHA and VA loans are in place to help buyers and veterans.  These have low or no downpayment options and looser qualification requirements.  However, they also have stricter requirements involving appraisals and seller requirements (although, it really isn't that much different than conventional in my opinion).  Some sellers shy away from these types of loans if all things are equal.  
One problem is that low downpayment loans leave very little room for appraisal shortfalls. Sometimes the only solution in these cases is for the buyer to make up the difference in their downpayment (which they may not have) or seller will have to reduce price. And in the case of VA loans, if a home doesn't appraise, and no solution can be agreed to, the earnest money deposit can be refunded to the buyer. 
If you need to go VA or FHA, is there anything you can do?  The best solution is to offer as high a due diligence deposit as possible.  This assures the seller that if sometimes goes wrong, they still are compensated and in the case of VA, an appraisal shortfall can lead to a refund of earnest money but NOT due diligence.
Seller prefer buyers with lower loan to value (LTV) loans where the buyer is putting more money down.  These leave more room for buyers to simply take on a higher LTV loan to make up the difference for an appraisal shortfall thus not requiring more downpayment funds. 
4. Inspections, Due Diligence Dates, Closing, and Flexibility
Some buyers are WAIVING inspections.  I would never recommend that unless you are comfortable with worst case scenarios.  Some buyers will be flexible with seller closing time frames.  This is very appealing to a seller.  Sometimes, the seller is waiting to move into a new home and needs a quick close and maybe a few days or weeks seller possession after closing or a longer term rent back.  If you can accommodate the seller's desired timeframes, that will definitely help your offer.
Clear as mud?  So, yes, the environment is extremely challenging and there are a lot of frustrated buyers out there. The good news is that almost ALL of my buyer clients have succeeded in securing a home in this ultra-competitive market. You, too, can easily improve your chances of securing a home by following the Cobra Kai mantra, "Strike first; Strike hard; No mercy".  Well, the no mercy part is a bit much; we all can use a little more "mercy" nowadays. Happy house hunting!
Please leave comments and feedback below. If you have ANY questions about this topic or anything else please don't hesitate to contact me at [email protected] or text/call me at (919) 559-3729